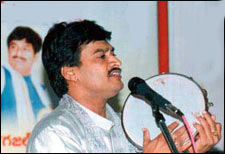 Ghazal Srinivas: Ghazal Srinivas scaled the heights of international fame as a pioneer of singing Telugu ghazals. Srinivas has developed a unique style of his own – a care free, effortless, and sonorous singing making use of only one accompaniment, a kanjeera. Through his mesmerizing concerts he enchanted the audience with over 5000 marvelous performances all over the world. He received numerous awards in recognition of his melodious ghazal singing. By singing 100 songs in 100 languages, Ghazal Srinivas entered into the Guinness World Records. Ghazal Srinivas is well recognized for his dedication and hard work in spreading Indian tradition and human values.
Srinivas hails from Palakollu, West Godavari District, in Andhra Pradesh, and has been singing Telugu ghazals since 1986. He has developed a unique style of his own – carefree, effortless and sonorous singing. He makes use of Kanjeera, a common instrument, as his only accompaniment. Characteristically, Ghazal Srinivas analyzes each stanza of the ghazal that he sings, and brings out the hidden literary beauty of it as he explains it to the audience.
Kesiraju Srinivas, a.k.a 'Ghazal Srinivas' is now a Guinness World Record holder for the most languages sung i.e. 76 in a concert, which was held in Vijayawada between June 2 and 3, 2008. The singer was felicitated for his achievement by chairman of Lanco Foundation Lagadapati Rajagopal here on Thursday.
On the concluding eve of Mahatma Gandhi's Satyagraha centenary celebrations, 'Ghazal Srinivas' offered a musical tribute to Mahatma Gandhi in 100 global languages in Vijayawada. The tribute started on June 2 at 6 p.m. and ended at 3 a.m. on June 3. He sang the song in 44 foreign and 56 Indian languages during the concert.
"The song based on the Satyagraha philosophy of Mahatma Gandhi was written and composed by me. I worked with foreign musicians and translated the song into their language. It took me nearly 13 months to learn and then record this song in 100 different languages," Mr. Srinivas informed in a press conference on Thursday.
The singer translated his song into foreign languages of the countries that include, among others, Mozambique, Bhutan, Afghanistan, Germany, Portugal, Italy, China, Armenia and Ethiopia. "We have developed an album of the song sung in 100 languages and by next month President of India Pratibha Patil will be releasing it in New Delhi," Mr. Srinivas informed. In fact, the singer has set his sight to embark on a unique series of concerts in Afghanistan, Iran, Iraq, Pakistan and other gulf countries to spread the Satyagraha message of Mahatma Gandhi. "Thanks to Lanco foundation, I am able to plan such an event in foreign countries. I would take up this trip in few months from now," he said.
The chairman of Lanco Foundation L. Rajagopal, after felicitating the singer, assured him of full support for the cause of Satyagraha.
It was an ardent fan's tribute. Playback singer and music director Srinivas, a fan of Mehdi Hassan, sang the maestro's ghazals for an enchanted audience at Vyloppilli Samskriti Bhavan, Thiruvananthapuram.
Ghazal Srinivas, besides serving the art of Music, serves the society throught his concerts by raising funds for the poor students, poor artistes, construction of educational institutions, public parks, old-age homes, etc. He has established a Kala Peetam in the name of his master Dr. C. Narayana Reddy. He gifts Rs. 10,000/- every year to a poet in the name of Dr. C. Na Re Sahiti Puraskaram. He donated the profits of his devotional albums to Sri Sri Chinna Jeeyar Swamy's Vikas Tarangini Trust. He also gave concerts in the District & Central Prisons to bring about a reformation in the prisoners. He became instrumental in organizing many health camps and service activities. He also tried to raise the funds by giving ghazal concerts to serve the victims of Kargil, victims of Bhuj earthquake. He also performs in all Central and District jails of Andhra Pradesh to reform the inmates of jails. He composed and released audio songs to give moral support to farmers and also he appealed to the public to help the farmers. He conducted Paadayaatra, Chaitanya Yatras on various issues like suicides of farmers, Protection of environment, drugs, peace human values etc.
Srinivas, through his mesmerizing concerts, has enchanted audiences in performances at the USA, England, Wales, Scotland, Singapore, Malaysia, Kuwait, Qatar, Dubai, Sharjah, Australia, Sri Lanka, Muscat, Oman, Abu Dhabi and more. He has given over 5,000 performances, and also performs Hindi and Urdu Ghazals during his concerts. He was conferred with an Honorary Doctorate in the field of Performing Arts by Cosmopolitan University, Missouri, USA, in the year 2005.

Srinivas is a BA in Political Science from Andhra University, and also has a Degree in Library Science from the University of Madras. He started his services as a Librarian in Bharatiya Vidya Bhavan, Bheemavaram, and Sainik School, Korukonda, where he worked for over a decade. He is currently serving the Government of Andhra Pradesh as an Adviser of Communications for Rural Development.