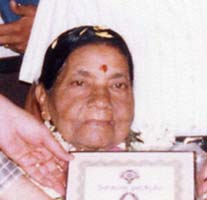 Smt.T.Kanakam: was born in Kharagpur she started singing at AIR ever since she was a child, She participated in a lot of children's programs. She proved her talent with the Natakum "Nayakuralu". Later she acted in popular  movies like Keelu Gurram(ANR),Raksha Rekha, Shavukaru, Pathala Bhairavi, Guna sundari etc., She was very popular with her expressive feelings. Even though she acted in movies she continued to partciopate in stage shows.
She acted in the roles of Lord SriKrishna, Sri Rama and many different charecters including Chintamani. She performed these dramas through out the state. She acted both male and female roles.
She received puraskaram from AP govt. She recieved NTR theatre art award for the year 2004.